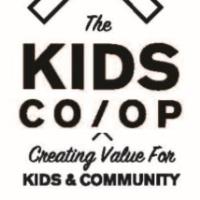 Kids Co-op
Contact: The Kids
City: Polson, MT, 59860
Email Address: mooremary84@yahoo.com
Phone: 406-285-1149
About Us
Welcome to the Kids Co-op, an organization educating on cooperative business while providing meaningful opportunities. Youth and young adults develop life skills in building community, entrepreneurship, project management, business management, marketing, accounting, multi-media, technology, robotics, music, art, and healthy living. The skills they learn today will benefit them throughout their life.
We have many skillful mentors in Montana; capturing those skills and sharing them is a critical component to empower our youth by providing the best knowledge and real life experiences. The Montana Co-op members and community help in one way or another with the success of the Kids Co-op through mentoring and supporting by purchasing the products and services they sell. The kids vote for their own board of directors, elect their officers, manage their business and bank accounts, engage in new business feasibility studies, and learn about business development in a real life opportunity.
We're looking for community partners to assist on this worthwhile project! If you're part of an organization that supports our youth in Montana, we need to collaborate. Please email: info@montanacoop.com if you're interested in getting involved. Creating sustainable jobs and providing access to local, healthy food is a high priority for the Kids Co-op and for most people living in Monana. We know the kids will begin to take back a chunk of the 688 million that leaves our Montana region because we're not eating what we're growing.
Completed Items With Kids Co-op:
-Received non-profit status (501 C3).
-Elected all youth board of directors
-Fulfilled 2 grants received with the Boys & Girls Club that included 17 field trips to Montana Co-op producer farms and food handling facilities.
-Fulfilled 1 grant received by Orton Family Foundation for Polson Heart & Soul community development.
-Fulfilled multi-year grant with CSKT Tribal Education Department as the Polson site for youth prevention.
-Created and and continue to produce healthy body products, healthy food (grow, harvest, prepare, sell, deliver), and recycled products. These items can be purchased from this website.
The Kids Co-op is looking for any youth or young adults (30ish and under) that have a passion for being better in whatever they choose to do. If it's business, our expertise (mentors and friends) will help make it a success.
Currently the Kids Co-op is working on several projects and will be growing food and food preparation. The Kids Co-op gardens and community kitchens will continue to expand throughout Montana. Value added food products are created under the Kids Co-op brand, and sold to the public. -Kids learn the best practices in farming, harvesting, storing, and preparing food. Some of the actions involved with the Kids Co-op include product discovery, perform feasibility studies, review food labeling, packaging, food safety, production, marketing, accounting, management, and technology.
-Once the Kids Co-op board of directors is in place, it is recommended that another brand audit be performed for the Kids Co-op.
All mentors of the Kids Co-op have been vetted with background checks and are required to show care and compassion to the youth and young adults.
Donations are greatly accepted and you can sponsor a specific youth, or the development of a new Kids Co-op business. There are many start up fees with starting new businesses and creating healthy products. Donations will often go to paying for ingredients, supplies, licenses, mentors, awards, scholarships, work tools, etc.).
We also need help with writing grants for the Kids Co-op. The Montana Department of Commerce suggested a Planning Grant. The Montana Department of Agriculture has mini-grants and the Growth Through Agriculture grant.
Here is a video that gives a great example of the benefits to come when empowering our youth with this cooperative business.
See video from UofM
Practices
The Kids Co-op is a collaboration with the Montana Co-op and Mission Valley Warriors to enrich children, families, and our community. The Kids Co-op is a business owned and managed by the kids as they learn real life skills in a real life business. The Kids Co-op specializes in growing and producing healthy food products, recycled products, and a wide range of other services that benefit the community.
These future products and services include:
Future Products:
*Housing (using recycled materials)
*Food Products (i.e. salsa, dressings, prepared snacks and meals, pickles, jams, etc.; gluten free items, organic, non-GMO). The kids will receive 2nd's from local farms and process at Mission Mountain Food Enterprise Center - must be 18).
*Cleaning Supplies: laundry soap and other cleaners. Includes working with Heavenscent (MT Co-op producer) in setting up refillable cleaning supply stations in multiple Food Hubs.
*Body Products: creating their own natural make-up line, lotions, soap, deodorant, tooth paste, etc.
*School Fund Raisers selling Montana food products (this program template has already been developed in eastern Montana; kids can duplicate to earn money for their school and their Kids Co-op).
*Garage/Storage clean-out which includes selling items on E-bay/Craig's List to bring the most value to our member while removing unwanted stuff.
*Build Gardens, Manage Gardens.

Future Kids Co-op Services:
*Installations of Office Furniture
*BBQ cleaning service (provide video showing what is done)-lay down blankets, wipe, scrub, refill tanks, start it up and test; can order burgers on the Montana Co-op as well.
*Bicycle Tune-Up and Repair Café.
*Animal Care and Clean-up.
*Project Management for own projects and other customer accounts.
*Contact Management and Marketing for Montana Co-op.
*Marketing and Social Media for local businesses.
*Professional Moving, Landscaping, Tree Trimming, Construction & Painting Services
*Computer Repair, TV Repair, Technology Support
*Etc. - and all under the KIDS CO-OP BRAND.

When it comes to gaining support, helping kids aspire to great things is something we can all agree on. Teaching them the cooperative nature of working together will increase their ability to create.

The kids will not just work together, they will interact and devise plans to purchase and develop things that they want to see in their community (i.e. obstacle course, video game center, dance/movie hall, ice-cream parlor, retail store, restaurant, ice rink, b-ball court, etc.).

Kids Co-op chapters in all community food hubs served by the Montana Co-op.